New items have been added to your cart. Refresh the page to see an updated total.

Shipping Information
Processing Time
Our quick turnaround time and centralized location ensures your order arrives fast and on time. If you place your order before 12:00 midnight Central Time, it will ship the following business day. If you have any special requests for your order, please note them in the special instructions section upon check out or contact an account manager.

Shipping Backordered Merchandise
You can choose how we handle your backordered items. The options are: Call First, Do Not Accept, Ship on Arrival, Ship with Next Order, Ship with Scheduled Order, Ship When All Items are Available, or Save Cart for Customer. Please let your account manager know your preference. They will be notified when the items are available and will proceed based on your specifications.

Shipping Options
Redemption Plus has a highly efficient inventory, shipping and delivery system. We offer a wide variety of shipping methods via United Parcel Service and Truck Shipping.

Shipping charges for standard ground service are 9% of your order total with a $9.00 minimum charge within the continental US. Accessorial fees will apply for extra services, expedited shipping and shipments to Alaska, Hawaii or outside of the US. Accessorial fees include, but are not limited to, lift gate service, inside delivery, appointments, specific time guarantee, etc. Please contact an account manager for more information.




UPS Ground Service Map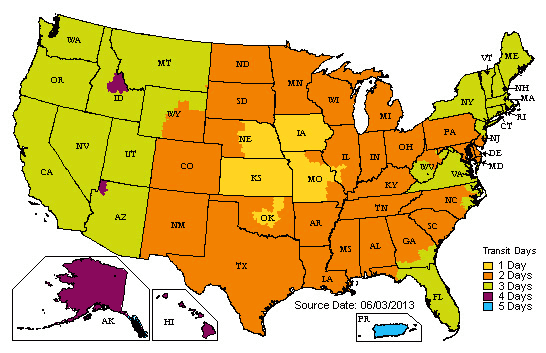 UPS guarantees the day of delivery for every ground package you ship to any address within the 48 contiguous states, except for any ground package originating in Alaska or Hawaii. Service Map colors may vary due to differences in hardware and software.



United States Shipping Options:

UPS Standard Ground

9.00% of order amount, $9.00 minimum charge


Hawaii, Alaska, and Puerto Rico = actual cost


UPS Next Day Air (Delivery by 10:30am)

Actual cost (call or email if you would like a quote before shipping)


UPS Next Day Air Saver (Delivery by 3:00pm)

Actual cost (call or email if you would like a quote before shipping)


UPS 2nd Day Air

Actual cost (call or email if you would like a quote before shipping)


UPS Ground Collect (Shipping, V.A.T., and Duty)
Standard Ground Service

$5.00 handling fee for any orders under $500.00


Orders over $500.00 equal 1% handling fee


$8.50 per carton shipped


Other Shipping Methods
Making a large order? You may be able to save money on shipping! Orders ranging from approximately $2,000 and up may qualify for truck shipping. In order to ship merchandise by truck, you must have the ability to receive your order on pallet(s).