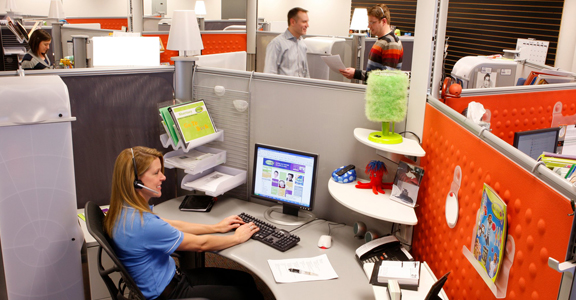 Redemption Plus is not just a place we come to work every day. It's a place you get to express yourself, have your ideas be heard, feel pride in what you do and know you're contributing to the success of this company. We treat each other like family and continually work to improve ourselves, our work, and our organization.
Our fun and playful surroundings help foster this atmosphere for creativity and innovative thinking. Take our virtual tour
here
.
We've been recognized as a best place to work because of perks such as our:
Wellness program (chair massage day is the best!)
Casual dress, and not just on Fridays
Fitness center
Full kitchen
After-work festivities to let loose and have some fun
And because every day is bring your dog to work day (or ferret)
Our company vision, mission and values – teamwork, integrity, work/life balancing, full responsibility, playfulness, daring & bold, gratitude, personal growth - are what drives us each and every day. They represent who we are, what we stand for, and how we operate. Learn more about them
here
.
Here are the opportunities that are currently available if you'd like to join the Redemption Plus family:
Distribution Manager
[View Job Description]
[Apply Online]
Fundraising & Amusement Park Account Manager
[View Job Description]
[Apply Online]
Executive Assistant
[View Job Description]
[Apply Online]
Warehouse Associate
[Apply Online]